I've been painting people of color for over 25 years. Until recently I portrayed those who are historically disenfranchised and marginalized.
Nannies are my current work. Even though they care for the treasured children of largely privileged white families, It's often the norm to never talk about it. Hidden, you never see photos, posts or paintings of the Nanny and the children. Even though they are indispensable to keeping modern families afloat, they remain invisible. I laud these strong black and brown women.
It's about time.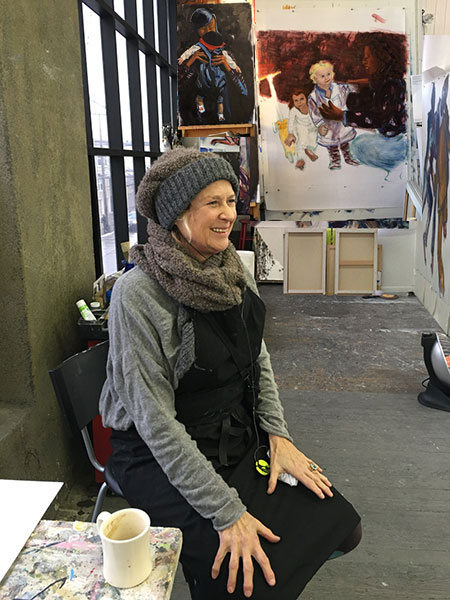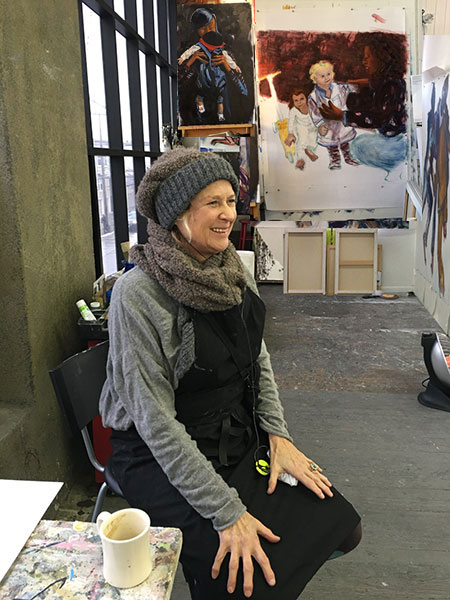 Bio
Growing up in New York City I was fascinated by light & shadow – buildings and pedestrians the constant players on a moving stage. Black & White photography became my media for decades. At the University of Maryland, I began oil painting which led to figurative sculpture. I received my BA in Sculpture at the University of Washington in Seattle, minimalist style welded and fabricated steel sculpture became my passion.
When I began to show these large-scale structures, I also submitted proposals for Public Art Projects. I received several commissions. At that time I was awarded a four-month fellowship in Rome where I investigated the changing face of public piazzas during the day, returning at night to paint my personal experience of Rome. Following the fellowship award, for twenty years I worked as a landscape designer specializing in landscapes for large private properties. Becoming nationally known for my landscape design work, receiving honors and awards which led to feature articles in several books, magazines, and journals. This work enabled me to continue working on public art projects and as an artist on numerous design teams across the country.
In 2001 I moved to Paris, France, where for nine years I worked daily in my painting studio. Feature articles of my paintings were included in two upscale French magazines. During these years I had the opportunity to travel extensively in France, Italy, Spain, Portugal, Netherlands, Greece, Morocco, Turkey, Germany, Austria, Croatia, Russia, Mexico, Argentina, Japan, China, and Vietnam.
Living in Europe, I was sensitive to cultural upheavals caused by the migration of immigrants to strange lands. My subjects for painting became these people. Soon I included adolescents and social outcasts clearly encumbered by a mix of fear, abuse, and triumph. They became my models for the expressive portraiture I paint today. I celebrate the dark side in vivid color.
Lives and works in Seattle and San Francisco.
Education
Art Students League of New York, NY, NY
Pratt Institute New York City, NY, NY
Queens College, NY, NY
University of Maryland, Art Program, College Park, MD
University of Washington, BA Sculpture, Seattle, WA
Gage Academy, Painting, Seattle, WA
Selected Solo and Group Exhibitions
Group ,de Young Museum,  Pictures of People de Young Museum
Group  de Young Museum,  Open Exhibit.
Group  Point + Line, online community for artists and art enthusiasts. Point + Line
Group  Online Art Auction NIAUSI, "Passo dopo Passo", Invitational Group Exhibition, Seattle, WA
Group  Aljoya Mercer Island, "C'est Bon", Juried Group Exhibition, Mercer Island, WA
Group  Univ. House Wallingford, Juried Painting Exhibition,"Turning Point", Seattle, WA
Group  Aljoya Thornton Place, Invitational Painting Exhibition, Seattle, WA
Solo  Zeitgeist Art + Coffee, Paintings, Seattle, WA
Solo  Rome Series, Paintings, University of WA School of Architecture, Seattle, WA
Solo  Ainilian Gallery, Sculpture, Drawings and Paintings, Washington, D.C.
Solo  Jackson Street Gallery, "Tilted Arches" Sculpture Installation, Seattle, WA
Solo  Boyd Residence, private installation and reception "Red Ramp" series, The Highlands, Seattle, WA
Solo  Design Concern, "Segments of a Slope", Seattle, WA
Solo  Traver Gallery, "Tower Series: Inaccessible Places" Sculpture and Drawings, Seattle, WA
Solo  Jackson Street Gallery, "Steel Forms" Sculpture and Drawings, Seattle, WA
Solo  Salon 28 Rue du Petit Musc, Paintings, Paris, France
Group  Bellevue Art Museum, Sculpture and Drawing, Bellevue, WA
Group  Arthead Gallery, "The Head Show", paintings, Seattle, WA
Group  BallardWorks Invitational Exhibition, Seattle, Paintings, Seattle, WA
Group  BallardWorks Group Exhibition, Seattle, Paintings, Seattle, WA
Selected Public Commissions and Collections
Mercerdale Park Fountain, Public Art at Mercer Island, WA
Port of Seattle Headquarters Pier 69, Artist on Design Team, Seattle, WA
Port of Seattle Headquarters Pier 69 Portal Entry Sculpture, Seattle, WA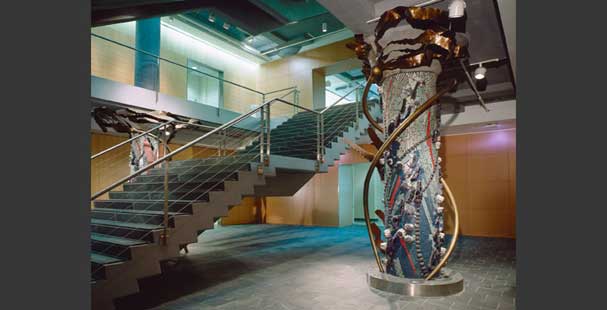 Port of Seattle Headquarters Pier 69 Portal Entry Sculpture
Bellevue Galleria, Fountains, Sculpture and Hardscape Design, Bellevue, WA
J.B. Matthews Memorial Library, Commission: Heroic Entry Sculpture, Chicago, IL
Cleveland Mass Transit, Artist on Design Team, Cleveland, OH
Denver Airport, Artist on Design Team for New Denver Airport, Denver, CO
Highline Power Substation, Artist on Design Team, Burien, WA
"Blaze", Painting, Art Collection, Lisa Davidson, Vancouver, B.C.
"Three Triangles" Stainless Steel Fabrication, coll. Joan Hood, Fairfax, VA
"Bliss House" Painting, coll. Joan Lieberman-Brill, Bellevue, WA
"Invasion", Painting, coll. LouOma Duran, Seattle, WA
"Inaccessible Places #3", Sculpture, coll. Cardwell Thomas Architects, Seattle, WA
"Inaccessible Places #1", Sculpture, coll. Don Carlson Architects, Seattle, WA
"Inaccessible Places #2", Sculpture, coll. City of Seattle, WA
Selected Publications and Press
Paths and Walkways, "Entry Paths", by Hazel White
Gardenscapes,"Mediterranean Inspiration", by Dr Carol King, Intro by Martha Stewart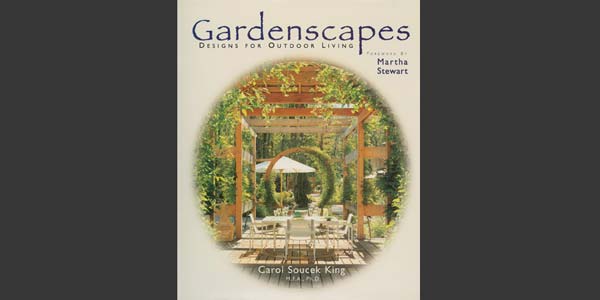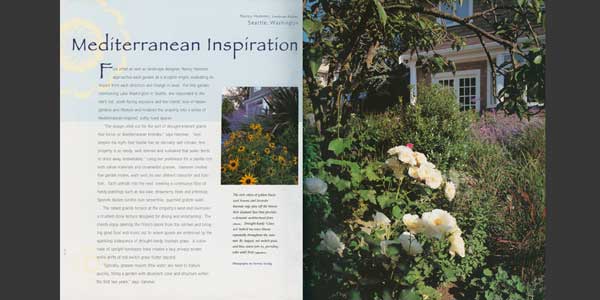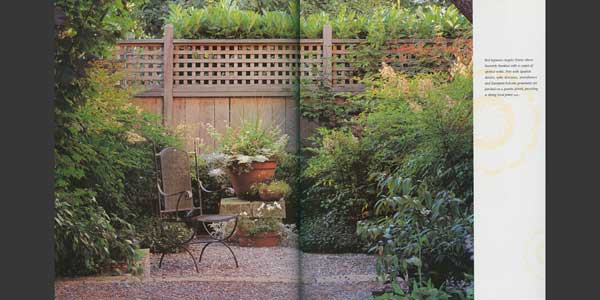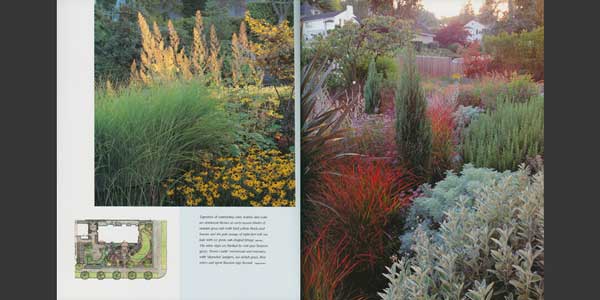 Gardenscapes "Mediterranean Inspiration", by Dr Carol King, Intro by Martha Stewart
New York Times, feature article "Gardens Made Accessible"
Seattle Times Pacific NW Magazine, Best NW Landscape Architect of the Year Award
Sunset Magazine "Garden Rooms with a Mediterranean Sensibility"
GARDEN Design Magazine Special Awards, received Golden Trowel Award
Seattle Times Pacific NW Magazine, "Afloat and Flourishing" by Valerie Easton
Sunset Magazine16 Winning Gardens, "Water Conserving Garden in Seattle"
DOGS Magazine #4, "American Style Paintings", Paris, France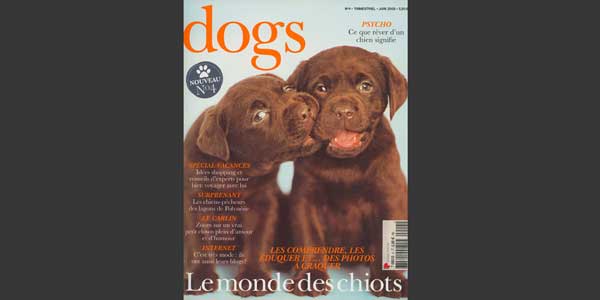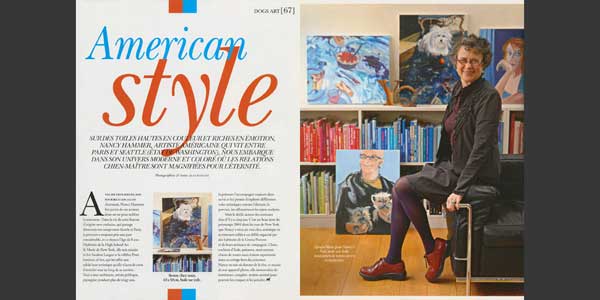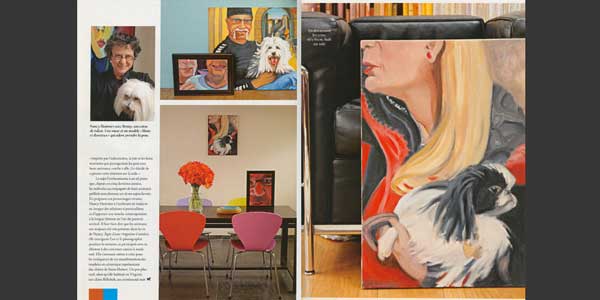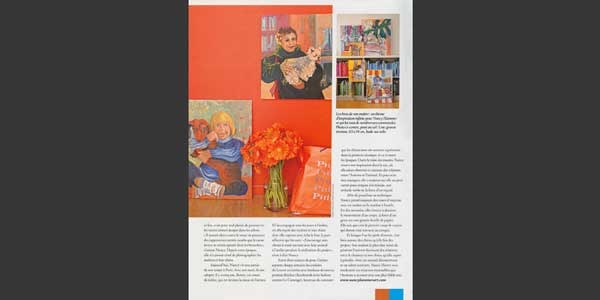 DOGS Magazine "American Style Paintings", Paris, France
Vos Chiens Magazine,"Une Americaine á Paris" Peintures, Paris, France
Seattle P.I. "Pier Pleasures", by Regina Hackett
King County Public Art, Plaza Design,Fountains & Sculpture The Galleria Plaza, Bellevue, WA
King County Public Art, Water Feature at Mercerdale Park, Mercer Island, WA
AIA Journal, Pier 69, "Portal Entry Sculpture at the Port" Seattle, WA
Seattle P.I. "Art at Bumbershoot: Tower Series Sculpture", by Matthew Kangas
Grants and Awards
Fellow, NIAUSI, Northwest Institute for Architecture and Urban Studies in Italy, Rome, Italy
Fellow, George Rickey Sculpture Fellowship, Invitational Fellowship, Hand Hollow, NY
Award, Golden Trowel Award, GARDEN Design Magazine, Palo Alto, CA
Award, Seattle Times Pacific NW Magazine, "Best of the Northwest" 1st place, Landscape Architect,
Awarded by NW Chapter of the American Society of Landscape Architects (ASLA)